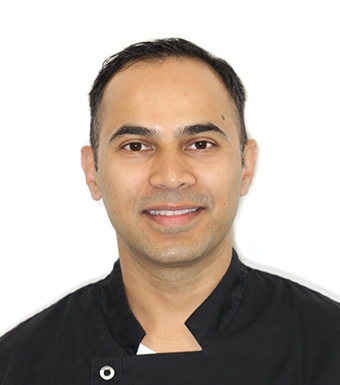 Our Principal Dentist, Dr Karan Baran, joined United Dental Clinic in 2013, and has become well known throughout the community for his knowledge, compassion, and dedication to educating his patients.
Dr Baran is a true people person, and loves getting to meet and interact with both new and existing patients. He loves the way digital technology has revolutionised the dental industry, and keeps United Dental Clinic at the forefront of this with our fully digital dental practice.
Right from childhood, Dr Baran knew he wanted to be a dentist; his interest was piqued after he needed orthodontic treatment as a child. Since graduating from his dental qualifications, Dr Baran has completed many further courses and qualifications both in Australia and internationally. These studies have equipped him with a broad range of skills including orthodontics, Invisalign, dental implants, All-on-4, and cosmetic aesthetic dentistry.
Dr Baran believes in empowering each and every one of his patients with the knowledge they need to make a truly informed decision about the treatment they are considering. He is extremely patient and compassionate, and has a wonderful ability to help apprehensive and anxious dental patients.
If given the opportunity, Dr Baran would love to have dinner with Bill Gates, who he admires for his humbleness and giving nature, in spite of his success.
When Dr Baran isn't helping his patients on their journey to great dental health, he enjoys getting out and riding his motorcycle.