Say goodbye to missing teeth in one day with All-on-4®
Looking for a practical alternative to dentures or traditional implant-supported dentures? You've found it with All-on-4® implants!
In 1998, Dr Paulo Malo successfully implemented the first All-on-4® dental implants. Since then, hundreds of thousands of patients worldwide have been treated with this concept.
All-on-4® is a type of dental implant procedure where 'all' prosthetic teeth are supported 'on four' dental implants. The procedure is suitable for many upper and lower arch cases, and can provide total rehabilitation for patients with severely damaged, missing, or vulnerable teeth. The procedure is able to be completed in the space of just a few days, and will have you smiling beautifully in no time!
Think All-on-4® might be the solution for you? Visit the team at United Dental Clinic for a comprehensive consultation for All on 4 Treatment to start your journey today.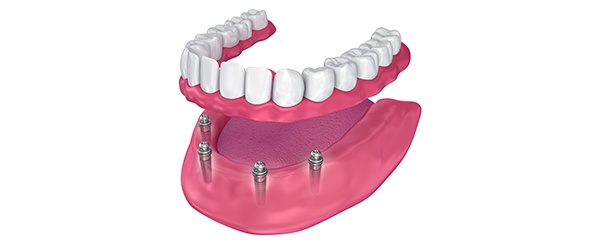 At a glance
What is All-on-4®?
With the All-on-4® treatment in Warriewood, you can receive dental implants and a complete set of non-removable teeth in one to three days. The innovative All-on-4® dental implant solution supports a full arch of teeth with just four implants. All-on-4® dental implants can be implemented on your upper or lower jaw, and deliver wonderful results for patients who have lost all their natural teeth, or are at risk of losing them imminently.
How Does All-on-4® Work?
The treatment is a step-up from traditional implant methods, which can be excessively complicated and painful. Fewer implants are used in comparison to traditional implant methods. This allows for a simpler cleaning process and ensures the longevity of your new smile. With All-on-4®, it takes just one to three days for your new teeth to look, feel and function very similar to natural teeth. Furthermore, all on 4 treatment is very much safe compared to other traditional implant methods.
All-on-4® v traditional implant-supported denture treatments
Most traditional implant procedures require as many as 10 implants to support a full arch. All-on-4®, as the name suggests, needs only four implants to support a full arch. While both options are viable, All-on-4® is considered the simpler option, and has a significantly shorter recovery period. Also, All-on-4® is generally less expensive than a full mouth of an alternative dental implant method.
In more detail
All-on-4® Process
To ensure your speedy recovery and brilliant results, All-on-4® generally follows a streamlined treatment plan.
1. Consultation
First, you will meet with a skilled dentist to discuss your implant options, and your expectations for your new All-on-4® smile. This also provides an opportunity to ask anything you wish to know about the procedure, implants, or dental health in general.
2. Suitability
Your dentist will determine your suitability for All-on-4® treatment with a comprehensive dental examination, including x-rays.
3. Mock-up and pre-op
You might need some dental work done prior to your dental implant surgery. Your dentist will go through this with you, as well as your digital mock up, before commencing surgery so you know what to expect.
4. Dental implant surgery
Your experienced All-on-4® dentist will place the four posts to either your upper or lower jaw.
5. Try your new arrangement
With the dentist's help, you'll try on your new dental arrangement to determine if it is the right fit for you.
6. SMILE!
The surgery is all over! Most patients can smile almost immediately after surgery (and they just don't stop!).
Immediately after your surgery, you can expect some swelling, bruising and maybe some pain. Stick to a soft-food diet for the first 3 months following your implant procedure, so your new smile can be integrated into the structure of your jaw without disruptions.
Following surgery, follow up appointments will be scheduled so your dentist can ensure the function of your new, beautiful smile. In these, your dentist will advise you how to clean and take proper care of your dental implants, and examine the All-on-4®'s integration into the mouth.
Of course! All-on-4® was created to improve function and aesthetics.  At United Dental Clinic, we believe it is essential that you can smile, eat, breathe and speak with ease. With All-on-4®, you'll be able to bite and chew all types of food, speak and sing, breath and smile – just as you would with natural teeth.
Our skilled team, advanced equipment and techniques allow us to perform the All-on-4® procedure on almost everyone. Though this will be officially determined at your consultation, we are confident in our ability to integrate an All-on-4® appliance in even the most hostile of oral health conditions.
Patient comfort is part of our fundamental approach here at United Dental Clinic. We will make every effort to ensure you are calm and relaxed during your treatment. In most situations, All-on-4® is performed under general anaesthetic where you are completely asleep, or IV Sedation where you are in a twilight state. Be sure you raise any special requests or concerns at your consultation so they can be properly addressed.