Whiter, brighter teeth with United Dental Clinic
White teeth give the impression of youth, glamour and great oral health.
Do your teeth need a pick-me-up? If discoloration is your concern, United Dental Clinic has you covered with in-office teeth whitening service by the Phillips Zoom! Teeth Whitening system.
Different lifestyle and diet factors can cause unsightly stains on our teeth. To restore them to their former gleaming glory, teeth whitening is the answer.
Modern dental technology advancements are making teeth whitening more and more accessible, safe, and effective. Professional teeth whitening is, by far, the fastest way to a brighter smile; Zoom! in-office whitening treatment can whiten your smile by up to eight shades in just one visit!
When you visit United Dental Clinic for a teeth whitening procedure, you can be sure you are in safe hands.
At a glance
What stains teeth?
Everyday factors of modern life can contribute to dental staining. Often, this can include:
Tea and coffee
Citrus and acidic foods
Sweets and soft drink
Alcohol (especially red wine)
Richly pigmented foods (such as blackberries)
Luckily, modern dental advancements allow in-chair teeth whitening to be stronger and more effective than ever. United Dental Clinic is proud to offer Phillips Zoom! Whitening for patients who wish to reclaim a glowing, white smile.
Can anyone have their teeth whitened?
Professional teeth whitening is a completely safe procedure; however, as with most medical and dental procedures, there are attributes and conditions that would exclude some patients. These include:
Acid erosion
Extremely sensitive teeth
Receding gums
Hydrogen peroxide sensitivity
Tooth decay
Anyone younger than 16
People with visible fillings, veneers or crowns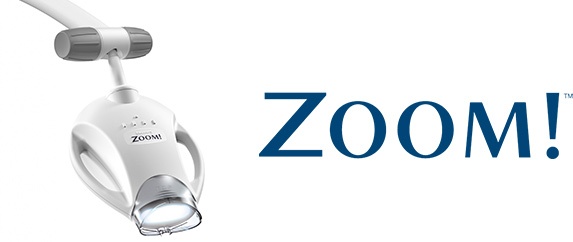 What is Zoom! Whitening?
Zoom! in-chair whitening is a highly effective method to whiten your teeth by up to eight shades in as little as one hour. The popular treatment incorporates light technology and a hydrogen peroxide formula to lift stains and discolouration, leaving your teeth whiter and brighter. The Zoom! treatment has been tried and tested to provide gleaming results to countless patients while minimising discomfort. The industry-leader in whitening is only able to be performed by a registered dentist or dental hygienist, as the procedure can be challenging and quite technical; however, it is completely safe when done as intended by a trained professional.
In more detail
How does Zoom! Whitening work?
Zoom!, like most teeth whitening options, is a bleaching procedure. Bleaches contain an active ingredient (generally either carbamide peroxide or hydrogen peroxide) which helps remove both deep and surface stains. Bleaching opens internal channels of the tooth to effectively penetrate and whiten.
The Zoom! Teeth Whitening Process
1. Prior to your teeth whitening procedure, your dentist will conduct an examination to ensure teeth whitening is for you. Not everyone is suited to in-chair teeth whitening due to the strength of the treatment.
2. Using a polishing tool, your dentist will clean the surfaces of your teeth. This ensures the whitening gel is applied to a clean surface.
3. Next, a special ring will be put in your mouth, pulling back the lips and covering most of the gums, holding your teeth in a wide grin. Later on, the UV light will attach to this. Gauze is placed down the sides of the mouth to sit alongside and protect the teeth which are not seen or being whitened.
4. A rubbery resin is then put onto the exposed gums. Applied precisely with a syringe, this protects the gums from being burnt in the process. It is hardened with a light.
5. Once all soft, exposed areas are covered, the whitening gel is 'painted' onto the surfaces of the teeth. The Zoom! Whitening UV light is then connected to the mouth splint and switched on.
6. Depending on the sensitivity of your teeth and your desired result, your dentist will determine a period of time for you to be under the light over intervals.
7. During each interval, your dentist will check you are okay – some people experience severe sensitivity by now – and use a suction device to remove excess saliva and old whitening gel. The whitening solution is then re-applied if there is more time left to the treatment.
8. Once the whitening treatment is over, your dentist will remove the stretching device and peel the protective resin from your gums. Rinse your mouth out and spit in the sink; your teeth might be feeling a little sensitive, but this is typical.
9. Smile!
The effects of bleaching are a common concern among those who wish for whiter teeth. Thankfully, undergoing a whitening treatment with your dentist is undoubtedly the safest method. Professional whitening is not only stronger than at-home kits, but is supported by the experience and expertise of your dentist. It also can be customised to your individual circumstance – your desired shade or sensitive teeth will be catered to accordingly by your dentist.
Whitening results vary depending on the condition of the teeth, composition and care. Most find that a yearly or twice-yearly touch up is all they need to keep a bright smile. Ensure the longevity of your white smile by avoiding strongly coloured food and drink, including coffee and tea, and following a comprehensive oral health routine.
During and immediately after treatment, some patients experience increased tooth sensitivity. This does not necessarily mean damage to the tooth. Bleaching opens internal channels of the tooth to effectively penetrate and whiten, which causes a sensation similar to eating something cold. This sensitivity experienced after whitening is generally short-lived, and should pass within a day.