Porcelain and composite veneers are great choices to refresh and tailor the appearance of your smile
United Dental Clinic has experienced dentists who are committed to oral health and aesthetics.
Veneers are a popular choice for smile rejuvenation. This is because:
Veneers can be used to give the appearance of whiter teeth.
They provide a natural tooth appearance.
Veneers are stain resistant.
Gum tissue tolerates porcelain and composite veneers well.
Veneers offer a conservative approach to changing a tooth's color and shape.
Are you considering dental veneers? Talk to the talented team at United Dental Clinic today.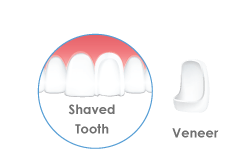 At a glance
What are veneers?
Once a luxury reserved for the wealthy, advances in dental technology have made dental veneers an accessible option for all. They are thin, custom-made shields bonded to teeth to create a customised smile. Veneers, porcelain or composite, can be used to instantly brighten a smile, improve the appearance of unsightly teeth, and even-out teeth that are too long or short for your aesthetic desires.
As dental veneers are specially created for your teeth, they provide a natural and individual approach to modifying the shape, size, colour and angle of your teeth. Without looking obvious, veneers 'cover up' your dental imperfections, leaving you with a beautiful, customised smile.
What is the difference between composite veneers and porcelain veneers?
Composite veneers and porcelain veneers will both drastically change the appearance of your smile. Both are applied by placing tooth-coloured moulds over existing teeth. Their main point of difference is their material. Composite veneers are made using engineered plastic or resin, and are considered the less-invasive option. Porcelain veneers look more natural, last longer and are an overall higher quality product than their counterparts.
For these reasons, most patients opt for porcelain veneers. While the difference in appearance is minimal, and it would take a highly trained eye to detect it from a regular distance, porcelain is still generally preferred.
How much do veneers cost?
The cost of your veneers depends on three critical factors: type of veneer, number of veneers you require, and the state of your natural teeth. In general, porcelain veneers will cost more as they are more durable, natural, and are of a higher quality than composite veneers.
Your dentist will be able to provide a quote for dental veneers following your initial consultation. The consultation provides an opportunity for your dentist to give a full assessment of your oral health, and establish a treatment plan for a natural, beautiful result. At United Dental Clinic, we want to give you the best shot at a beautiful smile. We provide our patients with payment options to ease the burden of dental treatment. This will also be discussed at your consultation.
In more detail
The Porcelain Veneer Procedure
Following a successful consultation with the details of the procedure agreed upon between yourself and your dentist, the porcelain veneer application process generally goes as follows.
Step 1: Trimming the tooth
To make room for the veneers, the enamel on the front side of your tooth is trimmed back to the approximate thickness of the veneer to be placed. This helps with the natural look and feel of the prosthetic tooth, and avoids an overly 'bulky' feeling. While it does depend on the condition of the teeth, the dentist will aim to trim only the tooth's enamel layer if possible.
Step 2: Matching colour
To look natural, the new veneer should be a complimentary colour to those surrounding it. The colour of a veneer can be slightly adjusted by the cement used to bond it to the tooth, so this step is not as critical as in some other cosmetic procedures.
Step 3: First Impressions
Now that your teeth have been trimmed, your dentist will take impressions. These will be used to fabricate your new veneers.
Step 4: Placing a temporary
If needed, a temporary veneer can be placed over any trimmed teeth.
Step 5: Evaluation
At your next appointment, your dentist will remove your temporary veneer/s and begin to tailor your veneer to fit and look right. This includes evaluating the way the veneer sits on your tooth, its shape and shade. All of this can be changed by the dentist before having the veneer applied, so if you are not happy, speak up!
Step 6: Application
Once the final details of the veneer have been settled, it is now ready to be cemented into place. To prepare your tooth, they will first clean and polish it, then etch the surface of your tooth to create a rough enamel surface. This is what the veneer's cement bonds to. A bonding agent is applied over the top. Next, the cement is placed inside the veneer. The veneer is then 'squished' into place, and the cement is set.
Step 7: Follow-up visit
After about one week, your dentist will request you return for a follow-up appointment. This is so they can monitor your gum's reaction to the new veneer and make any necessary adjustments to the size or shape.
When applied by an experienced, knowledgeable dentist, veneers look subtle and natural.  Their appearance also depends on the type of veneer used; porcelain is considered to be of a higher quality and more natural looking than composite veneers. In most cases, it would take a keen eye to detect dental veneers of any make.
While they are more durable and resistant than natural teeth, your veneers can stain. Care for them as you would natural teeth to ensure they look brighter for longer! In the same vein, veneers cannot be whitened. If you are interested in having veneers but would also like your teeth to appear whiter, undergo the whitening treatment first so your veneers can be colour-matched to your bright new smile.
With proper care and maintenance, veneers can last up to 10 years. Veneers are incredibly durable once bonded to your teeth and withstand daily wear as your natural teeth would. To ensure this sort of longevity, you should care for your veneers as if they were natural teeth – brush twice daily, floss daily, and avoid particularly hard food – as well as visiting your dentist twice a year for a check-up and clean.